April 18, 2018
Alumni Spotlight: Tim Barckholtz '98
Image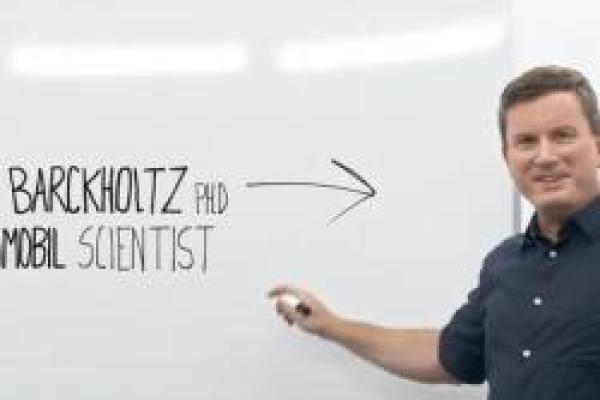 Description
The love of learning was the theme of Tim Barckholtz's (CBC '98 alum) ever since he was a young boy.  Ever so curious about what "stuff" was made of, it wasn't until his love for science was reignited by his high school chemistry teacher that he realized he might have a true passion for it.  When pursuing his undergraduate degree in Chemistry and Mathematics at Trinity College, his passions were further fueled and fostered. 
The quote in Tim Barckholtz's office is, "If you can't communicate your work, you might as well not have done it."  He cites one of his Ohio State professors, Dr. Bruce Bursten, as the reason he is able to explain his work to all types of audiences, ranging from sophisticated experts to new learners.  While he gained insights on how to communicate his work professionally from Dr. Bursten, Tim also received guidance from Dr. Terry Miller, OSU CBC professor emeritus. Dr. Miller taught him the value of both precision and accuracy in scientific measurements, and how to develop the theoretical models and tools to explain data and guide experiments.  Both Bursten and Miller helped support Tim throughout his Ph.D. in Organic Chemistry at Ohio State and laid the foundation for where Tim is today – working as a Senior Scientific Advisor at ExxonMobil.  You can check out a new commercial by ExxonMobil featuring Tim with this link!
One of the most rewarding moments Tim had as a Ph.D. student at Ohio State was when he and his peers were working on trying to get a molecular beam up and running, but couldn't get it to work properly for months.  After dedicating a few weeks to reading up on molecular beams, Tim realized there was actually a very simple solution to get the result they were looking for – moving the nozzle back a mere six inches.  This anecdote supports Tim's number one piece of advice for current students interested in his line of work – be persistent.  Specifically he states, "All of the easy experiments have been done already, meaning whatever you're doing in research will be tough, and will require patience and dedication to achieve." 
Other than keeping your nose to the grindstone and persisting with research, Tim's second piece of advice is just as important as his first.  "Enjoy life beyond science and chemistry and your dissertation," he says.  His fondest memories include playing golf at the Ohio State course with friends.  The stresses of school and wanting to be the very best can often overshadow the desire to play just as hard as one works, so this is valuable advice from someone who has been through it all.  Tim still embodies this balanced belief by spending time with his wife and their four sons, teaching Sunday school along with science classes at their schools, judging science fairs, and coaching youth sports.  Tim Barckholtz is the epitome of a well-rounded man, and credits his Ohio State education for making that possible.  He ultimately chose Ohio State because he thought it was the place that could offer him not only great science experience but great life experience as well, and to this day believes he made the right choice.
News Filters:
---