October 7, 2021
Joy Rutherford, Ph.D. student awarded Madam C.J. Walker Scholarship
Image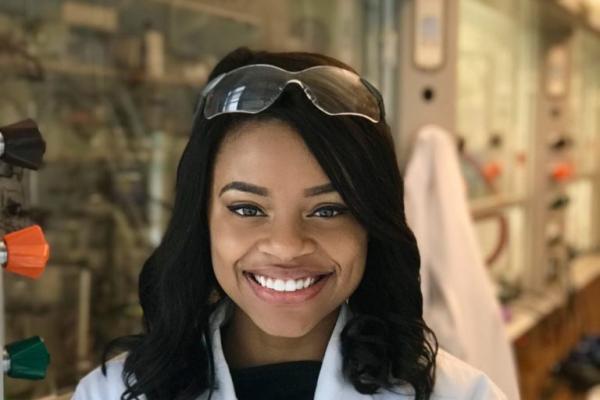 Description
Congratulations to Joy Rutherford, a Ph.D. student in the Nagib lab on winning the Madam C.J. Walker Scholarship, an award given by the Society of Cosmetic Chemists and sponsored by Mary Kay Inc. The Madam C. J. Walker Scholarship from the Society of Cosmetic Chemists (SCC), sponsored by Mary Kay Inc, which supports under-represented minorities pursuing higher education in STEM in disciplines related to the cosmetics and personal care industry. Madam C. J. Walker (born Sarah Breedlove; 1867-1919) was an American entrepreneur, philanthropist, and political and social activist. She is regarded as the first female self-made millionaire in America. Walker made her fortune by developing and marketing a line of cosmetics and hair care products for black women through the business she founded, Madam C. J. Walker
Manufacturing Company. She became known also for her philanthropy and activism. Her great-great-granddaughter, A'Leila Bundles, was on the scholarship selection committee and will be presenting the award during the SCC National Conference in December 2021.
Joy was born in Kalamazoo, MI, where she did her undergraduate studies at Michigan State University, receiving a Bachelor of Science in Chemistry. Currently she is a fifth-year PhD student and NIH Research Fellow in Dr. David Nagib's lab where she works on synthesizing important compounds found in medicine and nature using the power of photochemistry and radical mediated pathways. During her time at OSU she has been heavily involved in outreach through participation in NOBCChE, FOCUS and the ACS Bridge Program. She is also was a founding member of the Joint Diversity Team (JDT), a student-run and department-supported taskforce whose purpose is to be a resource for diverse groups of students and to promote inclusion in the department.
For full story: 
https://www.cosmeticsandtoiletries.com/networking/eventcoverage/SCC-and-Mary-Kay-Create-Two-5K-Madam-C-J-Walker-Scholarships_571659501.html
News Filters:
---