July 5, 2016
Dr. Abraham Badu-Tawiah Creates Simple and Cost-Effective Test for Malaria and Cancers
Image
Image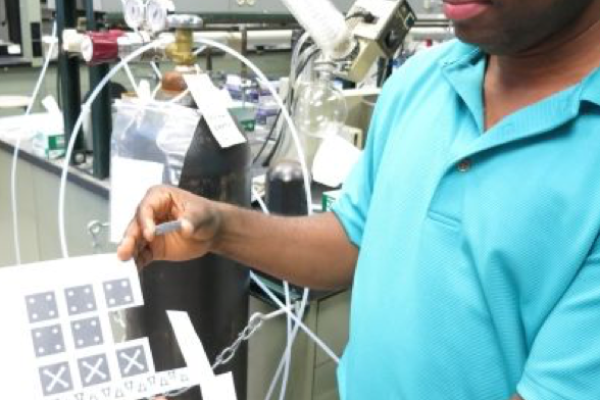 Description
Our very own Dr. Badu-Tawiah was recently featured in The Columbus Dispatch for his pioneering work in malaria detection. Dr. Badu Tawiah created revolutionary paper testing strips that can detect the presence of malaria and even some cancers, such as ovarian and large intestine cancers, through a drop of blood. The strips are roughly the size of a postage stamp and will cost about 50 cents. People can test for malaria and cancer by placing a drop of blood on the paper, then folding it, which locks in important markers that can later be scanned in a machine to look for malaria or cancer. Because the markers are preserved for a minimum of 30 days, the test strips can be mailed successfully without reducing any ultimate accuracy.
Dr. Badu-Tawiah's inspiration for his work stems from his origins in Ghana, where malaria runs rampant. As a child, he experienced one of the first signs of malaria, fever, every few months. Dr. Badu-Tawiah's focus isn't on the insects that transmit the malaria parasite, but rather on "controlling the disease in people," he told the Dispatch. His reasoning for adding some cancers to this testing process is that he's "in the U.S.," Dr. Badu-Tawiah says, "I have to do something that can directly impact the citizens of this country."
Currently, mass spectrometers are used to read the markers on the paper slips. These machines are quite large, weighing in at about 600 pounds, and costing around 300,000 dollars. Scientists are, however, working to create a smaller, cheaper mass spectrometer, one that weighs about 8 pounds and may cost as low as 30,000 dollars. One such machine would serve to test an entire village.
There's no doubt that this is a giant leap for us in the combat against disease, and within the next three years, Dr. Badu-Tawiah hopes to begin research on tests that move away from finger-pricks and use urine or saliva instead. This is certainly exciting and we're sure to see another huge step in the future thanks to the tenacity and hard work of our researchers.
The entire Dispatch article can be found here. 
---