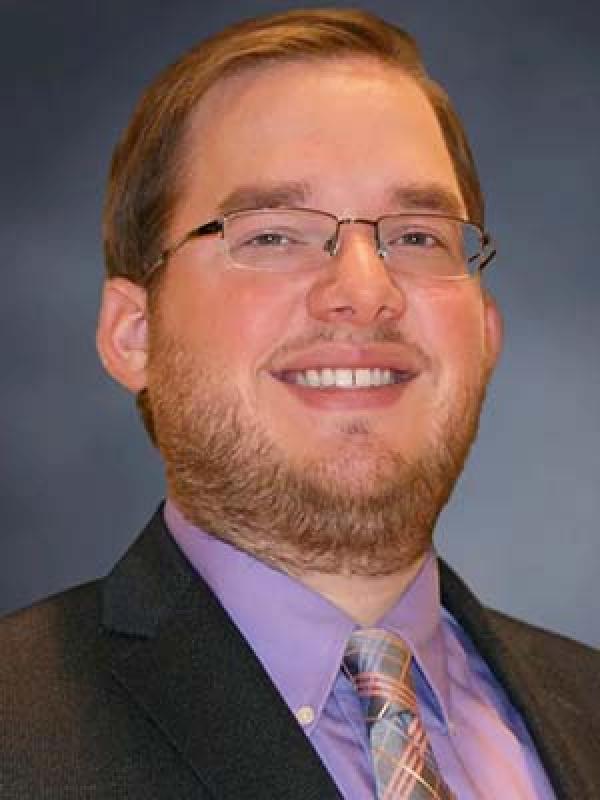 Ryan J. Yoder
Associate Professor
Marion Campus - 110N Science and Engineering Building
1459 Mt. Vernon Ave
Marion, OH 43302
Areas of Expertise
Organic Chemistry
Physical Chemistry
Bio
Ph. D. in Organic/Computational Chemistry
The Ohio State University, Columbus, OH, 2013
B.A. in Chemistry, Minor in Psychology
Ohio Wesleyan University, Delaware, OH, 2008
Research Overview
My current research involves the use of molecular modeling experiments to solve critical issues that threaten the health of populations around the globe. Specifically, combatting the effects of toxic organophosphorus nerve agents. Current efforts involve molecular docking studies examining potential therapeutics towards exposure to toxic organophosphorus nerve agents and towards cancer therapeutics. At The Ohio State University, Marion Campus I am able to expose students at the smaller regional campus to a quality undergraduate research experience. Present and past undergraduate students have presented their research at campus, university, and national forums and have also gone on to attend medical school, nursing school, pharmacy school, graduate school, etc.  As a passionate teacher, I have also pursued interests in chemical education research.  Efforts in this area have included studying factors affecting the implementation of student-centered teaching methods and a novel computational drug design activity for the undergraduate organic chemistry laboratory course.
Recent Publications
Acuna, V.V.; Hopper, R.M.; Yoder, R.J. Computer-Aided Drug Design for the Organic Chemistry Laboratory using Accessible Molecular Modeling Tools. Journal of Chemical Education. 2020, 97 (3), 760-763.
Paul, N.M.; Yoder, R.J..; Callam, C.S. The Use of ChemDraw throughout the Organic Laboratory Curriculum. Journal of Chemical Education. 2019, 96 (11), 2638-2642.
Yoder, R.J..; Bobbit-Zehrer, D.; Sawicki, V. Understanding the Use of Student-Centered Teaching Methods in Undergraduate Chemistry Courses. Research in Science Education. 2019. DOI: 10.1007/s11165-019-9820-5.
Zhuang, Q.; Franjesevic, A.J.; Corrigan, T.S.; Coldren, W.H.; Dicken, R.; Sillart, S.; DeYong, A.; Yoshino, N.; Smith, J.; Fabry, S.; Fitzpatrick, K.; Blanton, T.; Joseph, J.; Yoder, R.J.; McElroy, C.A.; Ekici, O.D.; Callam, C.S., Hadad, C.M. Demonstration of in vitro Resurrection of Aged Acetylcholinesterase after Exposure to Organophosphorus Chemical Nerve Agents. Journal of Medicinal Chemistry. 2018. 61 (16), 7034-7042.
Yoder, R.J.; Zhuang, Q.; Beck, J.M.; Franjesevic, A.; Blanton, T.G.; Sillart, S.; Secor, T.; Guerra, L.; Brown, J.D.; Reid, C.; McElroy, C.A.; Ekici, O.D.; Callam, C.S.; Hadad, C.M. Study of para-Quinone Methide Precursors toward the Realkylation of Aged Acetylcholinesterase. ACS Medicinal & Chemical Letters. 2017. 8 (6), 622-627.
Zhuang, Q.; Young, A.; McKenney, R.; Callam, C.S.; McElroy, C.A.; Dogan-Ekici, O.; Yoder, R.J.; Hadad, C.M. Efforts towards Treatments against Aging of Organophosphorus-inhibited Acetylcholinesterase. Annals of the New York Academy of Sciences. 2016, 1374 (1), 94-104.
Yoder, R.J 2014. Cesium Acetate. e-EROS Encyclopedia for Organic Synthesis.
Ruan, Y.; Taha, H.A.; Yoder, R.J.; Maslak, V.; Hadad, C.M.; Badjic, J.D., "The Prospect of Selective Recognition of Nerve Agents with Modular Basket-like Hosts. A Structure-Activity Study of the Entrapment of a Series of Organophosphonates in Aqueous Media" J. Phys. Chem. B. 2013, 117 (11), 3240-3249.
Hermann, K.; Sardini, S.; Ruan, Y.; Yoder, R.J.; Chakraborty, M.; Vyas, S.; Hadad, C.M.; Badjic, J.D. "Method for the Preparation of Derivatives of Heptiptycene: Toward Dual-Cavity Baskets" J. Org. Chem. 2013, 78 (7), 2984-2991.
Whittemore, S.M.; Yoder, R.J.; Stambuli, J.P., "Site-Selective Alkyl Dehydrogenation of a Coordinated Acylphosphine Ligand" Organometallics. 2012. 31 (17), 6124-6130.
People Filters: